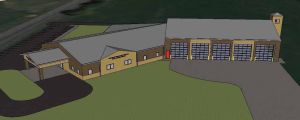 IREDELL COUNTY – Firefighting efforts in southern Iredell will get a big boost when the spacious new fire station of the South Iredell Volunteer Fire Department opens next summer.
Groundbreaking ceremonies for the 14,800-square-foot building are Sunday at 3 p.m. at the corner of Linwood and Brumley roads, just southeast of Mooresville. The public is welcome.
Deputy Chief Brian Weatherman of the SIVFD said the new station has been in the planning stages for five years. "We're hoping to begin construction on Sept. 16 and have it completed by the middle of July of next year," he said.
Weatherman said the new station will cost $1.9 million, funded by the countywide fire tax.
The new building will be a quarter- to a half-mile from the current SIVFD station, which will be closed when the new building opens.
"It's too small, and we've outgrown it," Weatherman said. "There are no living quarters, or office space, and the building is not up to code."
Currently there are 30-35 members on the department's roster, operating out of a 5,000-square-foot building that has only two drive-through bays for fire trucks. Weatherman said the department has seven trucks and one car, leaving six vehicles to be parked outside.
The new station will have five truck bays, living quarters, office space, and a community/meeting room. It will also contain a dayroom, two kitchens, bathrooms, laundry room, and a workout room.
"It will be a bigger station and we'll be able to provide a better service for the community and eventually have 24-hour coverage out of it," Weatherman said. "Most weekends we have that now, but we can certainly provide that with a bigger station."